Client
Ministry of Education Singapore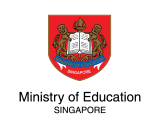 3D Online Game-based Assessment System. Target users are the Primary 6 and Secondary 4 students who have to complete and pass the National Educational Quiz before they can proceed to their next level of studies.
Both games – Grid Defenders for Primary 6 and Reboot for Secondary 4, are developed using Unity3D game engine.
Played directly from web browser installed with Unity WebGL, no client-based installation required.
Games content management system enabling the administrators and teachers to be able to manage the quiz content and their students' result seamlessly.
Client
Ministry of Education Singapore